We have come a long way from when we first commissioned the cross-cultural collaboration Seasons of the Sea in 2016.  We had no idea how relevant this work would be to these times. In the light of recent news reaching the public about some of the many horrific injustices to the Indigenous people of Canada, perhaps the most important thing about this work is how we learned to collaborate while truly respecting each other's cultures. I was moved over and over by the grace and patience of Rosemary, Renae and the Elders I was honoured to be able to meet. We found common ground through what we were trying to express together in our different ways.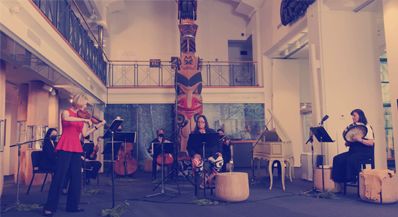 Climate change, cultural appropriation, losing a way of life but remembering and honouring those lost traditions and the wisdom of them, all these themes weave naturally in and out of Rosemary's stories. Jeffry Ryan's music has proved to be flexible and complementary yet retains its ties to the roots of Western music with a form based loosely on Vivaldi's Four Seasons. The addition of Renae Morriseau's First Nation Drumming has added depth to the piece, providing commentary from an Indigenous perspective. As one Elder commented, she witnessed "true reconciliation in action". 
If you are moved by Seasons of the Sea, please share the link with as many people you can.