From symphony orchestra to chamber ensembles to prison outreach, cellist Henry Shapard finds meaning as a musician.
The youngest VSO member is about to make his Vetta Chamber Music debut with a Benjamin Britten solo.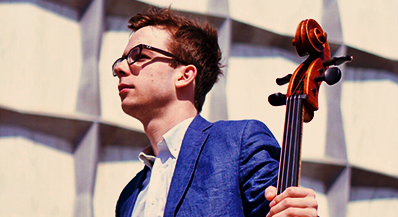 Vetta Chamber Music presents Wartime Masterpieces on April 28 at 2 pm at West Point Grey United Church; April 29 at 7:30 pm at West Vancouver United Church; April 30 at 2 pm at Pyatt Hall; and May 1 at 7:30 pm at ArtSpring on Salt Spring Island.
As the youngest member of Vancouver Symphony Orchestra and the youngest principal cellist of any major orchestra, Henry Shapard is living a dream—and yet the position is only one part of how he defines his role as a professional musician. So is outreach, including playing in prisons. About to make his debut with Vancouver's Vetta Chamber Music, the 24-year-old artist has done casual cello sessions at institutions for incarcerated adults and youth in his home state of Ohio, the experiences proving deeply meaningful to him.
In a Zoom interview with Stir, Shapard explains that the impetus to perform in jails stems from the fact that he considers himself to have one foot in and one foot out of the music world; he studied history at Yale and all of the friends he went to university with are in other disciplines. This got him thinking about the role of a musician in society.
"I've come to think that there is a stewardship component of that that is not done justice by simply only playing for paying audiences," Shapard says. "I started about eight months ago playing in prisons. The arts are not a significant part of things there, and I feel very strongly that this is not something that I do for fun, but it's actually a significant responsibility of being fortunate enough to work as a professional musician and a professional artist. And this is part of the job."

> Continue reading the article written by Gail Johnson in Vancouver's arts and cultural digital magazine Stir.