A reflection on contrasts and similarities
At first glance, the Franck Quintet and the Mozart Concerto "Jeune Homme" seem to belong to different universes. Mozart wrote his Piano Concerto No. 9 in E♭ major, K. 271 when he was but 21 years of age. Alfred Brendel called it "one of the greatest wonders of the world". Franck, on the other hand, wrote the work in his mature years, one of only a handful which are now considered major works. He dedicated the quintet to Saint-Saens, who, after premiering the work as the pianist, stomped off the stage leaving the manuscript behind, a clear sign of disapproval, yet Paris audiences were clamouring for more.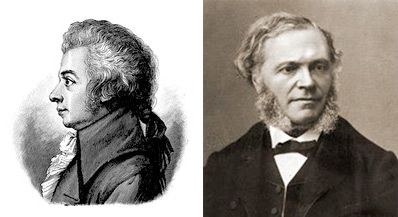 The Franck cycles through emotional energy like a gas guzzler. It has huge contrasts between torrid passion and vulnerable, dreamlike melodies. The work begins with an almost screaming declaration from the strings, followed by a delicate interlude in the piano. Wait a minute, Mozart also starts with a strong statement from the orchestra, and a reflective answer in the solo piano. For those early days, this was quite a deviation from the usual orchestra opening which states all the themes before introducing the piano. So, they both had guts, they both liked contrast. 
Franck loved chromaticism and cyclic form which he pretty much invented. He would take a small motif and move it through every conceivable key. The phrases end up sounding circular and we can get lost as in a maze. Mozart, though he stuck to the classical form with its eight bar phrases for the most part, could work wonders within that structure. He could take the same beginning of the phrase and turn it into something completely new in the second half, taking us on a new route we would never have expected. I guess they both had a way of "turning a phrase"! 

Regardless of the different styles, aesthetics, and cultural values that are reflected in these two pieces of music they were both writing what was true and right for them at their time and place in history. For me, the contrast between the two works highlights some of the best of their features, and I enjoy both the effervescence and elegance of Mozart and the broodiness and emotional rollercoaster as long as I acknowledge and enter the spirit of the times in which they were written.