Artists & Performers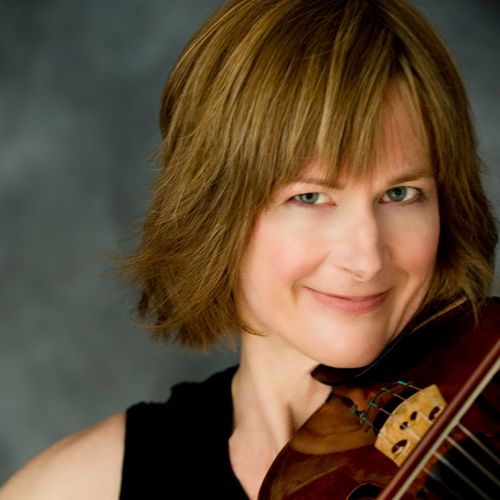 Joan Blackman
Artistic director / Violin
Artistic Director of Vancouver's Vetta Chamber Music Society, Ms. Blackman enjoys a vibrant and varied musical life. She served as Associate Concertmaster of the Vancouver Symphony for many years and has performed and recorded as soloist with the Vancouver Symphony, Victoria Symphony, CBC Radio Orchestra, Turning Point Ensemble and the Banff Festival Orchestra. She also teaches privately and has given masterclasses throughout B.C.

Ms. Blackman is known throughout Canada and the U.S. as a fine chamber musician and has performed with premier groups such as the Penderecki String Quartet, the Purcell String Quartet and the Gryphon Trio. Besides performing and curating the Vetta Chamber Music series in Vancouver, she works with the Canadian Music Centre in their Celebration concert series. Joan is also a member of the Sea and Sky collective which has released two CDs and performs throughout B.C.

Joan has appeared on numerous series including Music in the Morning, Music Fest Vancouver, the Jeffrey Concerts in London, Ontario, and the American String Project. She has also appeared at summer festivals including the Hornby Island Festival, the Pender Harbour Chamber Music Festival, Kaimerata, and the Victoria Summer Music Festival.

"Your heart would need to be made of stone not to have loved Joan Blackman's splendid solo ". "Shapelier phrases and sweeter tone would be hard to imagine", "a ravishing tone", "first rate soloist", "exchanged lines meltingly in a flawless performance" "playing with lyricism, precision, and evident joy", are some of the accolades that have graced Joan's reviews.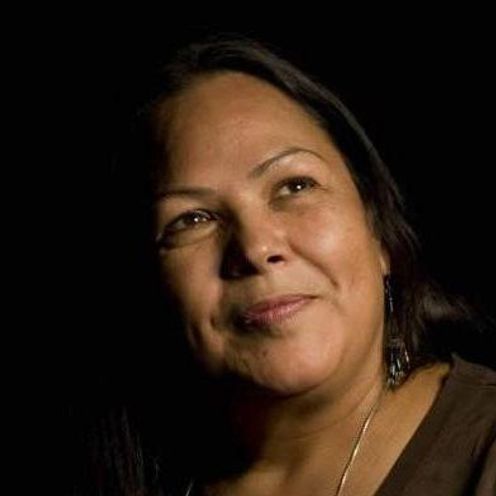 Rosemary Georgeson
First Nations Consultant
Rose came into her community art's career later in life, after working for many years as a truck driver, resort cook and a deckhand on the fishboats, as a means of raising three children on her own. Rose came into control of her own life in 2000.
The recipient of the 2009 Vancouver Mayor's Award recognizing her as an emerging artist in community arts, Rosemary has applied her talents in a variety of situations in the Downtown Eastside and throughout B.C. & the Northwest Territories and into the Yukon.
Rosemary has provided outreach and story consultation for Vancouver Moving Theatre's In the Heart of a City: The Downtown Eastside Community Play and co-wrote and provided cast hospitality for We're All In This Together: The Shadows Project.
She is Urban Ink Productions Community Liaison and worked closely with Marie Clements on the CBC radio drama Hours of Water involving 100's of participants – decades of women who lived and worked in the drowning west coast fishing industry.
Rosemary was associate producer of From Where We Speak (a theatrical bridge of words between two islands created by Penalakut and Galiano Island Aboriginal students).
Rosemary worked as project leader of The Squaw Hall Community Arts Project: A Community Remembers – a documentary film created by youth and elders from an Aboriginal perspective that was created for and within the Williams Lake community by co-producers urban ink and the Twin Fish Theatre Collective (Nelson).
Rosemary has been touring "Women In Fish" throughout B.C. and other parts of Canada. "Women in Fish" has been adapted as a two women touring show.
Rosemary also collaborated with Renae Morriseau and Savannah Walling on the "Story Weaving Project", a contemporary story of urban Aboriginal life, which she was also project co-ordinator.
Rosemary's first documentary "We Have Stories" screened in the fall of 2013 at "The Heart of the City Festival" and was also part of "Indigenous Women In Film" Screening / Discussion / Q&A at Liu Institute for Global Issues at UBC in May 2014.
Rosemary has just completed her four-month residency as Vancouver Public Library's Aboriginal Storyteller in Residence 2014.Since 2015, Rosemary has collaborated with "Vetta Chamber Music" in ongoing projects of cultural reconciliation.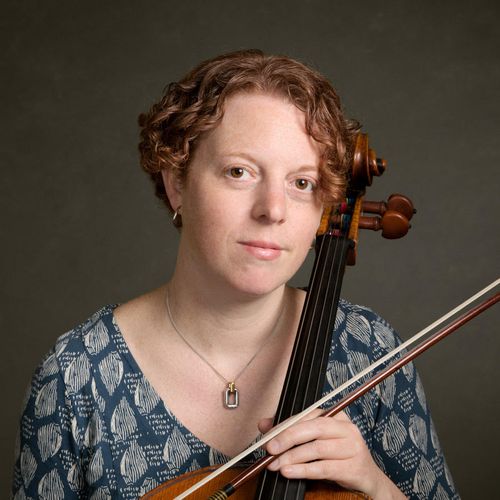 Hannah Addario-Berry
Cello
Canadian cellist Hannah Addario-Berry has been delighting music lovers around the world for over a decade. Specializing in chamber music and solo repertoire, Hannah is passionately committed to performing music by living composers. Along with her exquisite cello playing, Hannah's warmth and engaging presentation style enable listeners to forge a deeper connection with music. 
In 2015, Hannah created Scordatura, an innovative project combining Zoltán Kodály's monumental Sonata for Solo Cello with a series of newly commissioned works, all of which share a unique altered tuning of the cello. Scordatura celebrated the centenary of Kodály's Sonata and explored a new sound space for solo cello. Hannah performed the program in 25 cities around the US and Canada and recorded Scordatura in early 2016. Her previous album, Lady in the East, features music for solo cello by the Canadian composer Stephen Brown and was reviewed by Gramophone Magazine in October 2014.
An avid and versatile chamber musician, Hannah performs regularly with many ensembles, including the San Francisco Chamber Orchestra and the San Francisco Contemporary Music Players. She has been invited to play at festivals such as Other Minds and Switchboard Music in San Francisco, Trinity Alps Chamber Music Festival in northern California, and Music By The Sea in British Columbia. From 2006-2010 Hannah was cellist with the renowned Del Sol String Quartet, during which time the quartet performed more than 50 world premieres and recorded two highly acclaimed albums, Ring of Fire: Music from the Pacific Rim and First Life: String Quartets of Marc Blitzstein.
Hannah's love of chamber music began early and acquired momentum when she was invited to join McGill University's prestigious Lloyd Carr-Harris String Quartet, with whom she performed in France and Italy, including at Casalmaggiore Music Festival. For her graduate work, she chose San Francisco Conservatory's Masters in Chamber Music, where she collaborated with artists such as Menahem Pressler, Jean-Michel Fonteneau, Ian Swensen, and Jodi Levitz.
Hannah lives with her partner and their two children in North Vancouver, Canada, where she enjoys cooking, gardening, hiking, and her other career as a full spectrum doula.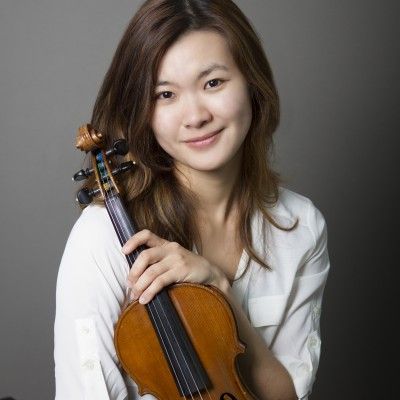 Jae-Won Bang
Violin
Violinist Jae-Won Bang received her Bachelor of Music and Master of Music in Violin Performance from the Colburn School and Yale School of Music respectively, and Master of Music in Historical Performance from the Juilliard School. In 2012, she was featured on the NEXT Young Artist series on CBC Radio Two with pianist Ryo Yanagitani, as the first artist to be heard on both baroque and modern violins.
Jae-Won has collaborated with Clive Greensmith, Gil Kalish, Ronald Leonard, Rachel Podger, Arnold Steinhardt, and has performed in Weill Hall and Stern Auditorium at Carnegie Hall, David Geffen Hall, Kennedy Centre, Alice Tully Hall, the Greene Space at WQXR, and le poisson rouge. She has also appeared as a Young Artist with Da Camera Houston for the 2015/2016 season. Her teachers include Gerald and Toni Stanick, Robert Lipsett, Ani Kavafian, Laurie Smukler, and Cho-Liang Lin on violin and Robert Mealy, Cynthia Roberts and Monica Huggett on baroque violin. As an orchestral musician, Jae-Won has previously performed in the Winnipeg Symphony Orchestra and the New York Philharmonic. Since the 2016/2017 season, she has been a member of the first violin section in the Vancouver Symphony Orchestra.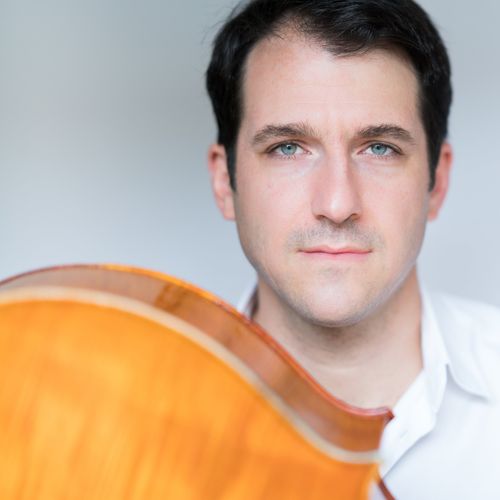 Ari Barnes
cello
Described as creating a "mesmerizing musical experience" by combining his "deep personal connection" (Toronto Live Music Report), "luscious tone and technical prowess"(The Vancouver Sun), Ariel Barnes has been hailed as "truly an inspiring artist…the outstanding Canadian Cellist of his generation" (Maestro Bramwell Tovey). Equally comfortable with Baroque to Modern musical languages, his international concert engagements in Europe, North America and Asia include concerto appearances, chamber music collaborations and solo recitals, featuring performances in such venues as Taiwan's National Concert Hall, Canada's Orpheum Theatre, Germany's Meistersingerhalle, Smetana Hall in Prague and the Tisch Auditorium in New York City.  As a celebrated performer and recording artist, he is broadcast on platforms including CBC Radio 2, BBC Radio 3, Hessischer Radio and Bavarian Radio & Television, has toured as a featured Jeunesses Musicales Canada Solo Artist and was featured in CBC Radio's Canadian Bach Cello Suite project to launch their highly successful cbc.ca on-line music portal. His critically acclaimed recordings have been released on the Paladino (AUS), Orlando (AUS), Analekta (CAD), Centrediscs (CAD), Redshift (CAD) and PARMA/Ravello (USA) record labels, and his solo appearances include collaborations with the Czech National Symphony Orchestra, Sinfonia Varsovia, Vancouver Symphony Orchestra, Manitoba Chamber Orchestra, INSO Lviv Symphony Orchestra, Victoria Symphony, Kingston Symphony, Okanagan Symphony Orchestra, Vancouver Island Symphony, Nuernberger Symphoniker, Canadian Chamber Choir, Festival de Febrero Chamber Orchestra, Cantus Ensemble and Turning Point Ensemble with conductors Bramwell Tovey, Yoav Talmi, Anne Manson, Earl Stafford, Steven Mercurio, Evan Mitchell, Pierre Simard, Tania Miller, Rosemary Thompson, Lutz Köhler, Owen Underhill, Julia Davids, and Alexander Zemtsov. With a passion for creating 21st Century Art Music he is consistently involved in working with composers and ensembles to develop new literature for the cello as a solo and chamber music instrument, currently having 6 Concerti and 11 Solo and Chamber works written especially for him.  Ariel was awarded 1st Prize at the 24th International Johannes Brahms Competition, is a recipient of  two Western Canadian Music Awards, a Juno nomination, the Felix Galimir Chamber Music Award @ the University of Toronto and has received generous project support from the British Columbia Arts Council, Manitoba Arts Council and Canada Council for the Arts, most notably as a winner of the 2012 Canada Council Musical Instrument Bank Competition. He is former Principal Cellist with the Vancouver Opera Company, CBC Radio Orchestra, Vancouver Symphony Orchestra and is currently Principal Cellist of the Nuremberg Symphony Orchestra.
At the core of his nourishment as an artist are his chamber music projects and collaborations. Dedicated to this genre for nearly 20 years now, his partners have included the Zodiac Trio, Dover String Quartet, St. Lawrence String Quartet, Musica Intima, members of the Attacca String Quartet, Manhattan Chamber Players, Australian String Quartet, Ensemble Made in Canada and the Formosa String Quartet, and many individual artists including Jane Coop, Arthur Rowe, Sarah Davis Beuchner, Francine Kay, Pawel Kolesnikov, Mahan Esfahani, Lars Vogt, Lara St. John, Soyoung Yoon, Bogdan Božović, Mark Fewer, Martin Chalifour, Benjamin Bowman, Jonathan Crowe,  Andrew Wan, Steven Dann, Juan-Miguel Hernandez, Teng Li, Carrie Dennis, David Harding, Rosalind Ventris, Julian Arp, Lorna McGee, Susan Hoeppner, Sergio Pallottelli, Daniel Bolshoy and new music luminaries such as Steven Schick and Caroline Shaw.  He has enjoyed repeat appearances at the Saronic Chamber Music Festival (Greece) Ottawa Chamberfest (Canada), Banff Centre for the Arts (Canada), Victoria Summer Music Festival (Canada), The Zodiac Music Festival and Academy (France), and is proud to be a founding member and regular guest of the Northern Lights Festival de Febrero (Mexico).  Harpist Heidi Krutzen and Ariel Barnes form COULOIR, a cello/harp duo dedicated to developing a body of 21st Century Art Music for this colourful and evocative combination of instruments. COULOIR was awarded the honour of "2016 Artist of the Year" at the Western Canadian Music Awards for the release of their second recording, MAXWELL, MUHLY & COULOIR (www.couloirduo.com).
As a dedicated teacher, Mr. Barnes has fostered the talents of many cellists, aiding them in garnering prizes and recognition at the Busan Maru (Korea), Johansen (USA), Stulberg (USA) and Sheen (CAN) competitions and helping them continue their studies at some of the World's finest music schools including the  Curtis Institute of Music in Philadelphia, Colburn School of Music in Los Angeles, the Hans Eisler Hochschule für Musik in Berlin, the Faculty of Music at the University of Toronto, the Schulich School of Music at McGill University in Montreal and the Harvard University Faculty of Arts and Sciences.  Mr. Barnes is the former co-head of the cello department at the Vancouver Academy of Music and as a visiting artist has taught masterclasses at the University of Toronto, University of Manitoba, Brandon University and Penn State University. Mr. Barnes currently teaches a private class of students in Nuremberg, Germany.
Nourished by his experience in all major genres of performance and pedagogy, Ariel Barnes' natural musicianship is recognised in his collaboration with musicians throughout the world.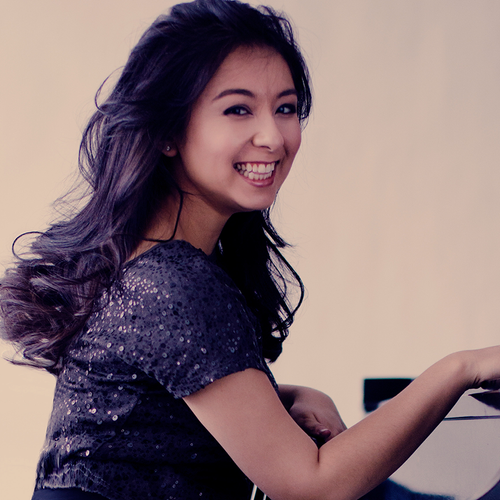 Talisa Blackman
Piano
Talisa is an active keyboardist based in Toronto, specializing in orchestral performance. She performs regularly with the Toronto Symphony Orchestra, and has worked with the Hamilton Philharmonic Orchestra, Kitchener-Waterloo Symphony Orchestra, Esprit Orchestra, and the Mariinsky Theatre Orchestra under the direction of Valery Gergiev. She has appeared as a soloist with the Toronto Symphony Orchestra and the National Arts Centre Orchestra in Ottawa among other groups. As a chamber musician, she has collaborated with noted vocalists and instrumentalists, including Scottish violinist Nicola Benedetti, baritone Russell Braun, and soprano Measha Brueggergosman. Talisa enjoys performing music of all genres, especially video game music, film scores and Broadway tunes, and has also performed with pop artists such as Carly Rae Jepsen, the Moody Blues, and Evanescence. In her spare time she loves reading, gaming, and playing with her two kittens Freddy and Samus.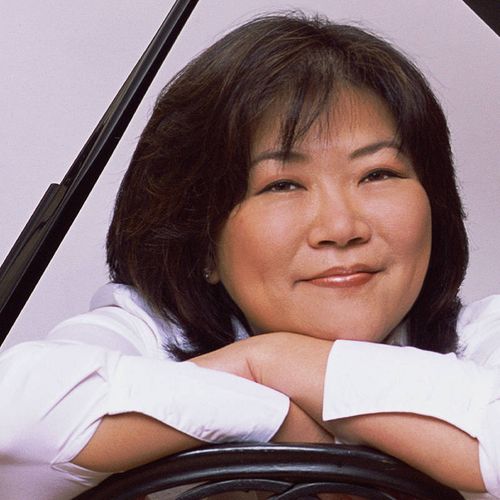 Angela Cheng
Piano
Consistently praised for her brilliant technique, tonal beauty, and superb musicianship, Canadian pianist Angela Cheng is one of her country's national treasures. In addition to regular guest appearances with virtually every orchestra in Canada, she has performed with the symphonies of Saint Louis, Houston, Indianapolis, Colorado, Utah, San Diego, and Jacksonville, as well as the philharmonic orchestras of Buffalo, Louisiana, Rhode Island, London, Israel, and Minas Gerais in Brazil.
Recent performances include a debut with the Fort Worth Symphony, performing Rachmaninoff's "Variations on a Theme of Paganini," under the baton of Robert Spano, and a return to the Vancouver Symphony, performing Ravel's Concerto in G with Otto Tausk. Next season will include the Boulder Philharmonic, Newfoundland Symphony, Okanagan Symphony, Saskatoon Symphony, Saguenay Symphony, and the Symphony of Northwest Arkansas.
As a recitalist, soloist and chamber musician, Cheng has performed at Carnegie Hall, the Kennedy Center in Washington, D.C., New York's 92nd Street Y, and Wigmore Hall in London. A member of the Zukerman Trio and Chamber Players, she has also appeared at Vienna's Musikverein, the Concertgebouw in Amsterdam, Buenos Aires' Teatro Colon, Mariinsky Concert Hall in St. Petersburg, and the Sydney Opera House. Festival appearances include Verbier, Edinburgh, Miyazaki, Stars of the White Nights in St. Petersburg, and the George Enescu Festival in Romania.
Cheng also appears regularly on concert series throughout the United States and Canada and has collaborated with the Takács, Colorado, and Vogler quartets. North American festival performances include Banff, Chautauqua, Colorado, Great Lakes Chamber Music, Vancouver, Toronto, and the Festival International de Lanaudière in Quebec.
She is regularly invited to give master classes at schools throughout North America and in Asia and has appeared at the Royal Conservatory of Music in Toronto, Hong Kong Academy for the Performing Arts, Taichung University in Taiwan, Indiana University, University of Michigan and the University of Texas. She has also served on the jury of many competitions, including the Cleveland International Piano Competition, Esther Honens International Piano Competition, Montreal International Piano Competition, and the Gina Bachauer International Piano Competition, among others.
Cheng was awarded the Gold Medal at the Arthur Rubinstein International Piano Masters Competition and was the first Canadian to win the prestigious Montreal International Piano Competition. She has also been honored with the Canada Council's coveted Career Development Grant and the Medal of Excellence for outstanding interpretations of Mozart from the Mozarteum in Salzburg, Austria.
A native of Hong Kong, Cheng studied extensively with Menahem Pressler at Indiana University and with Sascha Gorodnitzki at The Juilliard School. She is currently on the artist faculty of the Oberlin Conservatory of Music, where she was honored with the 2011-12 Excellence in Teaching Award.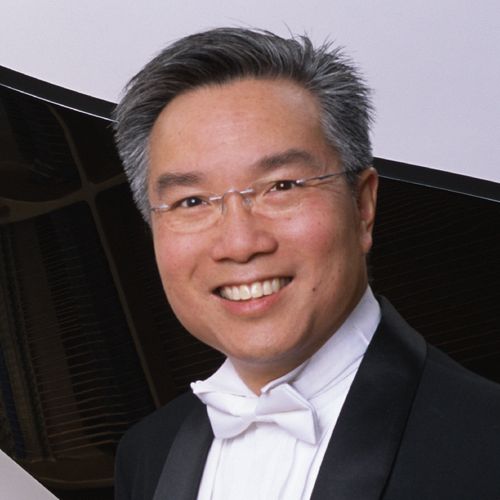 Alvin Chow
Piano
Alvin Chow has appeared throughout North America and Asia as orchestral soloist and recitalist.  In addition, he has performed extensively in duo-piano recitals with his wife, Angela Cheng, and his twin brother, Alan.  A native of Miami, Florida, he graduated summa cum laude and Co-Valedictorian (with his brother) at the University of Maryland, where he was a student of Nelita True.  Mr. Chow received the Victor Herbert Prize in Piano upon graduation from the Juilliard School, where he studied with Sasha Gorodnitzki, and held the Joseph Battista Memorial Scholarship at Indiana University as a student of Menahem Pressler.
Mr. Chow has won top prizes in numerous competitions such as the National Symphony Young Soloists Competition, Civic Orchestra of Chicago Young Soloists Competition, William Kapell International Piano Competition, and the New York Piano Teachers Congress International Piano Competition.  He has been presented as recitalist in such cities as Hong Kong, Shanghai, Vienna, Montreal, Toronto, New York, and Los Angeles, and has appeared as soloist with the National Symphony Orchestra, Civic Orchestra of Chicago, Colorado Symphony, Alabama Symphony, Pan-Asia Symphony in Hong Kong, Shanghai Philharmonic, and Mozarteum Orchestra in Salzburg, among others.  He has also been Convention Artist for the state MTNA conferences in California, Colorado, Florida, Hawaii, Michigan, Minnesota, Mississippi, Missouri, Montana, New Jersey, Ohio, and Tennessee.  With Angela Cheng, he performed as Conference Artist for the 2019 National Conference on Keyboard Pedagogy.
Mr. Chow has presented numerous master classes and lectures at music institutions throughout the United States and abroad, including the Royal Conservatory of Music in Toronto, Hong Kong Academy for Performing Arts, Colburn School, Eastman School of Music, and Indiana University.  He has taught and performed at numerous summer festivals, including the Shanghai Piano Festival, Banff Piano Master Classes, North Coast Piano Festival, Southeastern Piano Festival, New Orleans International Piano Festival, Rebecca Penneys Piano Festival, Lake Como Summer Piano School in Italy, and the Classical Music Festival in Eisenstadt, Austria.  
Mr. Chow was the first Fulbright Visiting Artist in Piano at the University of Arkansas, and also taught at the University of Colorado.  Mr. Chow is presently a member of the artist faculty at the Oberlin Conservatory of Music.  He served as Chair of the Piano Department from 2007-19, and from 2011-14 he was the Ruth Strickland Gardner Professor of Music.  Awarded Oberlin's Excellence in Teaching Award in 2016, Mr. Chow was appointed Director of the Division of Keyboard Studies in 2019.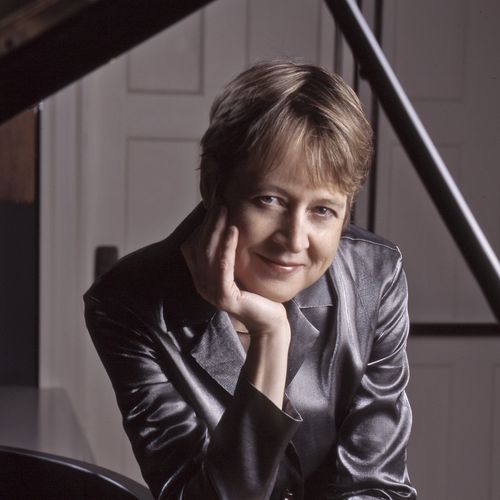 Jane Coop
Piano
Pianist Jane Coop was born in Saint John, NB and grew up in Calgary, AB.  She studied with Anton Kuerti in Toronto and Leon Fleisher in Baltimore.

At nineteen she won First Prize in the CBC's national radio competition, and this, along with prizes at competitions in New York and Washington, DC, launched her career. She made recital debuts at Wigmore Hall and Carnegie Hall, as well as performing with the Toronto, Calgary, Victoria and the CBC Vancouver Orchestras. In 1976 she toured the New England States as soloist with Mario Bernardi and the National Arts Centre Orchestra of Canada in Mozart's Concerto in D minor.

Jane has since played in over twenty countries, in such halls as the Bolshoi Hall in St. Petersburg, the Kennedy Center, Alice Tully Hall, Roy Thomson Hall, the Beijing Concert Hall and the Salle Gaveau (Paris). In Canada she has given concerts from coast to coast to coast.  She is one of the few who has remained resident in Canada throughout her career. Commissions from Stephen Chatman, Ramona Luengen and others have been included in both her live performances and her recordings.

Coop's long-time association with violinist Andrew Dawes, and her more recent partnership with cellist Antonio Lysy, have given her the opportunity to delve into the sonata literature of Beethoven. In summer festivals around the world, she has performed with the Manhattan, Miami, Audubon, Orford, Lafayette, Colorado, Seattle, Angeles and Pacifica String Quartets, as well as with the Los Angeles Chamber Winds, York Winds, and such luminaries as Barry Tuckwell, Jamie Somerville, Martin Beaver, Jeanne Baxtrasser and Michelle Zukovsky. Coop is a faculty artist at the Kneisel Hall Chamber Music Festival, the oldest chamber festival in North America. There she collaborates in performances of much of the chamber music literature for piano and strings, and coaches brilliant young musicians from across the continent.

Her sixteen recordings, three of which have been nominated for Juno awards, have garnered glowing reviews and have been heard on classical radio programs in many countries.  In December 2012, Jane Coop was appointed to the Order of Canada, our country's highest honour for lifetime achievement.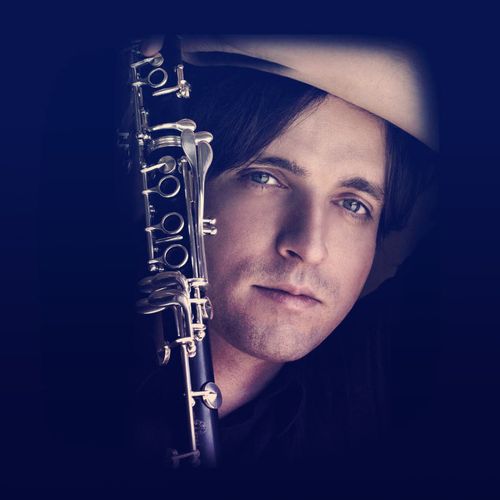 Jose Franch-Ballester
Clarinet
The multi-award-winning Spanish clarinetist Jose Franch-Ballester (FrAHnk Bai-yess-TAIR) is considered one of the finest classical soloists and chamber music artists of his generation. He has been hailed for his "technical wizardry and tireless enthusiasm" (The New York Times), his "rich, resonant tone" (Birmingham News), and his "subtle and consummate artistry" (Santa Barbara Independent). The recipient of a prestigious Avery Fisher Career Grant in 2008, and winner of both the Young Concert Artists and Astral Artists auditions, he is a solo artist and chamber musician in great demand.

As a concerto soloist Mr. Franch-Ballester made his New York debut in 2006 with the Orchestra of St. Luke's at Lincoln Center. He has also performed with the BBC Concert Orchestra, Louisville Orchestra, Princeton Symphony Orchestra, Santa Barbara Chamber Orchestra, Wisconsin Philharmonic, Louisiana Philharmonic, Hilton Head Symphony Orchestra, Malaysian Philharmonic Orchestra, and various orchestras in his native Spain.

Mr. Franch-Ballester made his New York recital debut at the 92nd Street Y, and has appeared in recital at the Isabella Stewart Gardner Museum in Boston, Iowa State University, the Buffalo Chamber Music Society, and the Mondavi Center for the Performing Arts. He performs regularly with the Chamber Music Society of Lincoln Center both in New York City and on tour, and also acts as principal clarinet of the Santa Barbara-based chamber music collective Camerata Pacifica.

U.S. festival appearances include the Saratoga Chamber Music Festival, Music@Menlo, Mainly Mozart, Bridgehampton Chamber Music Festival, Music from Angel Fire, Chamber Music Northwest, and Skaneateles Festival. Abroad, Mr. Franch-Ballester has appeared at the Usedomer Musikfestival in Germany, the Verbier Festival in Switzerland, the Cartagena Festival Internacional de Música in Colombia, the Kon-Tiki Festival in Norway, and the Young Concert Artists Festival in Tokyo.
David Gillham
Violin
Canadian Violinist David Gillham regularly appears as chamber musician, in recital and as soloist in major cities and venues across four continents. A sought after teacher, Mr. Gillham is an Associate Professor of Violin at the University of British Columbia School of Music and is the director of the Violin Programme at the Domaine Forget International Music Festival and Academy. Mr. Gillham has given masterclasses throughout North and South America, China, Taiwan and South Africa.

Mr. Gillham was for many years a member of the acclaimed Arianna String Quartet (USA) and is a founding member of the Ridge Piano Trio and the violin and piano duo "Gillham-Iinuma".

In 2002, Mr. Gillham received the Queen Elizabeth II Golden Jubilee Medal in honour of his contributions to the arts in Canada.

Mr. Gillham performs on a Carlo Tononi violin made in 1725, Venice.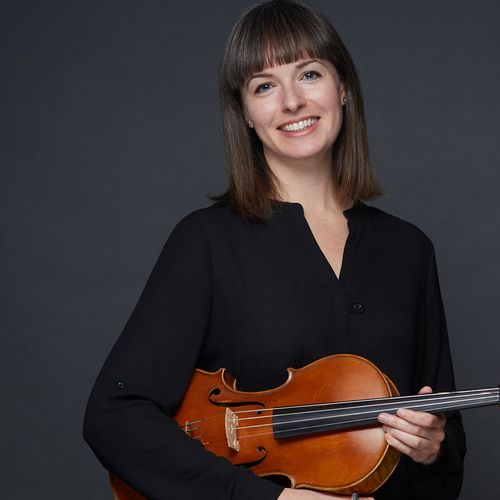 Emilie Grimes-Bouchard
Viola
Originally from Ottawa, Emilie Grimes holds a Master of Music degree from the Juilliard School, where she studied with Michael Tree and Steven Tenenbom. She completed her undergraduate degree at the University of Montreal under the tutelage of Neal Gripp.
As an orchestral and chamber musician, Emilie has performed in venues worldwide. She toured with the Schleswig-Holstein Festival Orchestra in Germany, and appeared on Hong Kong's Radio 4 with the Vancouver based Koerner Quartet. She has also appeared on WQXR in New York, playing baroque viola with Juilliard's historical performance ensemble, Juilliard415, and was featured in the National Arts Centre's "My First NAC" showcase concert series. She regularly takes part in series around Vancouver, including the VSO Chamber Players, UBC's Wednesdays at Noon, Classics at the Gordon Smith Gallery, the Vancouver Chamber Music Society, and has performed as a guest with the NU:BC new music ensemble. She was appointed Adjunct Professor of Viola at the University of British Columbia from 2017 to 2019.
Emilie joined the viola section of the Vancouver Symphony in 2012, and recently won the position of Assistant Principal Viola.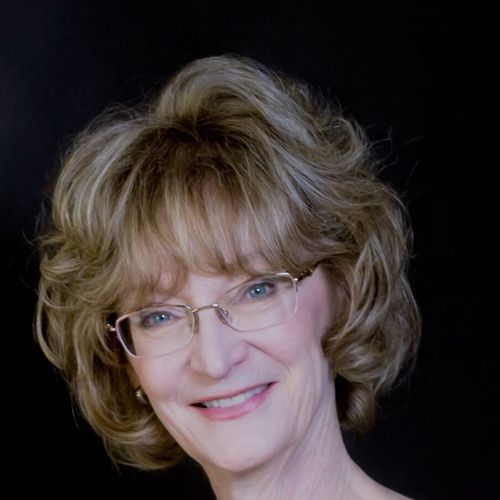 Jane Hayes
Piano
Since her debut with the Toronto Symphony, Jane Hayes' concerts have taken her across Canada, the United States, Europe and Mexico. An active recording artist, she has over 20 CDs available on the Fanfare, EMI, Centrediscs, ATMA, Artifact, CBC-Musica Viva and CBC SM5000 labels. Jane moved to BC in 1993 to become a faculty member in the newly opened Music Department of Kwantlen Polytechnic University in Langley. Her passion for teaching was recognized when she received the 2015 Distinguished Teaching Award in the Faculty of Arts.  Jane enjoyed a year-long sabbatical in 2017-2018 when she devoted her energy to two main projects:  researching possibilities for long-distance music education in northern BC; and giving a series of recitals and master classes at universities and private music schools in the Henan and Guangdong provinces in China to foster professional development among Chinese piano professors.  As a result of her work in China, she was appointed Guest Professor at Henan Polytechnic University. After 27 years, Jane has officially left Kwantlen to focus on her performing and mentoring passions.

In recent years she has appeared regularly on concert stages in every combination from duo through large ensemble, as soloist with orchestra to chamber collaborator. She has been a partner of such esteemed artists as cellist Harvey Shapiro, violinist Robert Davidovici, and flutists Julius Baker and Bonita Boyd among others.  She is a founding member of Vancouver's Turning Point Ensemble, the Yarilo Ensemble and Sea and Sky (violinist Joan Blackman; clarinetist François Houle; saxophonist Julia Nolan). This season's highlights will include presentations of the complete Beethoven Cello Sonata Cycle with Pamela Highbaugh Aloni of the LaFayette Quartet along with several livestream and video performances around the province.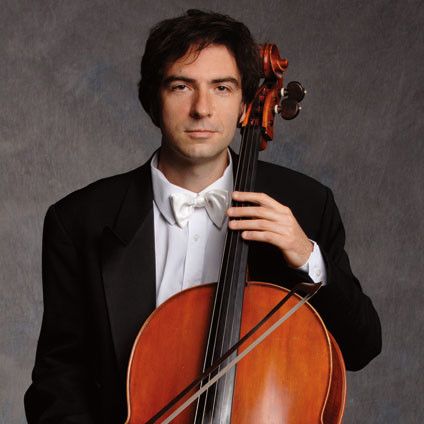 Zoltan Rozsnyai
Cello
Zoltan Rozsnyai was born into a musical family. Both his parents and grandparents were professional musicians. He studied piano and violin, before taking up the cello at the age of six. He joined the Windsor Symphony at 15, then left to attend the University of Toronto two years later.

While in Toronto, he studied with Vladimir Orloff and Daniel Domb. Zoltan also took masterclasses at the Banff School of Fine Arts, studying with Aldo Parisot, Tsuyoshi Tsutsumi, and Janos Starker. He played for many years in the Canadian Opera Company and National Ballet orchestras, as well as performing as soloist and chamber musician throughout Ontario. Zoltan also spent a year in India with his electric cello, traveling and collaborating with musicians. In 1999 he joined the Vancouver Symphony Orchestra, and has been the Assistant Principal cellist since 2001.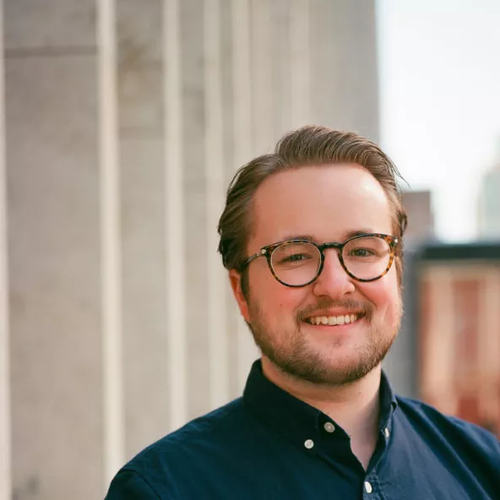 Jacob van der Sloot
Viola
Jacob van der Sloot started playing violin under the instruction of his mother and father, Daphne and Michael van der Sloot, when he was five. He then switched to viola with his father when he was 13 and was accepted to the Juilliard school to study with Steven Tenebom, where he would earn his Bachelors degree in 2019. Shortly after his undergraduate studies, Jacob became the youngest member of the Vancouver Symphony Orchestra at age 22.
Growing up in Victoria BC, Jacob had the opportunity to solo with the Sidney Classical, Sooke Philharmonic and the VCM Senior string orchestras, being praised for his "..deep, rich sound with flying colours." (Times Colonist, Canada) Jacob has gone on to perform in halls around the world such as Carnegie Hall, David Geffen Hall and Alice Tully hall in New York City, Museo Del Violino in Cremona, Bing Concert Hall in Stanford and the Bejing Conservatory Concert Hall, among others. He has enjoyed dedicating his summers to the study of music, participating in programs such as the Perlman Music Program, Morningside Music Bridge, the NAC's Young Artist Program, Banff International Masterclass Program, PRISMA Music Festival, Casalmaggiore Festival in Italy and a fellowship at the Bowdoin Music Festival. It was at these festivals where Jacob had the opportunity to study with and play alongside renowned faculty such as Itzhak Perlman, Pinchas Zukerman, Dimitri Murrath, Roberto Diaz, Atar Arad, Máté Szücs and Michael Gieler. Jacob also made his solo Carnegie debut in 2019 playing the Brahms E-flat Major viola sonata as part of Julie Jordan's "International Rising Stars" concert series.
An avid chamber musician, Jacob was part of the Noctis Quartet, which won second place at the Fischoff Chamber Music Competition and the WDAV Young Artists Competition. His chamber groups have also performed numerous times in Carnegie Hall's Stern Auditorium. Jacob's passion for chamber music also carries into music outreach, playing chamber music all over New York City in hospitals, prisons, retirement homes, schools and psychiatric facilities as part of Juilliard's "Gluck" Fellowship program and through GroupMuse concerts. He also enjoys private teaching, and has served on faculty of the Victoria Summer Strings Academy.
Jacob's orchestral journey began with the Greater Victoria Youth Orchestra. He has since played with the Juilliard Orchestra, the Juilliard Lab Orchestra, the National Arts Centre Orchestra and Principal Violist of both the Sidney Classical Orchestra and the New York Concerti Sinfonietta. Jacob joined the Vancouver Symphony Orchestra in 2020 and is incredibly happy to call Vancouver his home.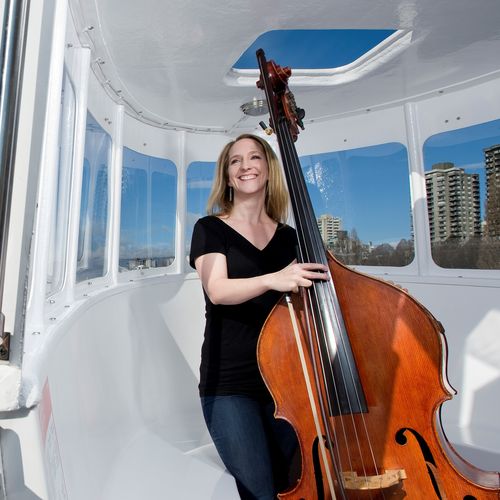 Meaghan Williams
Bass
Raised in St. John's Newfoundland, Meaghan completed her undergraduate degree in performance at the Royal Conservatory of Music in Toronto with virtuoso bassist Joel Quarrington. During that time, she also had the privilege of studying with bass legend Gary Karr. Meaghan earned her Konzertexamen with Michael Wolf at the Universität der Künste in Berlin. She also attended the Carl-Flesch Akademie in Baden-Baden, Germany where she studied with Finnish double bass phenomenon Janne Saksala, Principal Bass of Berlin Philharmonic.
Following her studies, Meaghan performed with the Neue Lausitzer Philharmonie in Germany and she was founding member of the Hyogo Performing Arts Center Symphony Orchestra in Japan. Since returning to Canada, Meaghan has performed with ensembles from coast to coast including the Vancouver Symphony Orchestra, Victoria Symphony and the Newfoundland Symphony Orchestra. Meaghan is the Principal Bass of the Okanagan Symphony Orchestra and a member of the Vancouver Opera Orchestra.
A believer in diversity and innovation, Meaghan enjoys working with living composers and expanding the repertoire for double bass. She premiered the Concerto for Cello, Bass, Suona & Dizi by Dr. Ning Wang (Beijing) with the Nu:BC Collective and premiered Placentia Bay: Summer of 1941 for double bass and orchestra by Mark Haney with the Okanagan Symphony in November 2019. Meaghan is a passionate advocate of Canadian design and craftsmanship and performs on a double bass made by Peter Mach (Gatineau, QC) and bows made by Reid Hudson (Duncan, BC) and Max Kasper (Halifax, NS).
Meaghan is grateful to have been supported throughout her career with grants from the Newfoundland and Labrador Arts Council, the BC Arts Council, and the Canada Council for the Arts. She teaches at Capilano University, privately both in person and online, and at the West Coast Amateur Musicians Society course in Squamish, BC, each summer.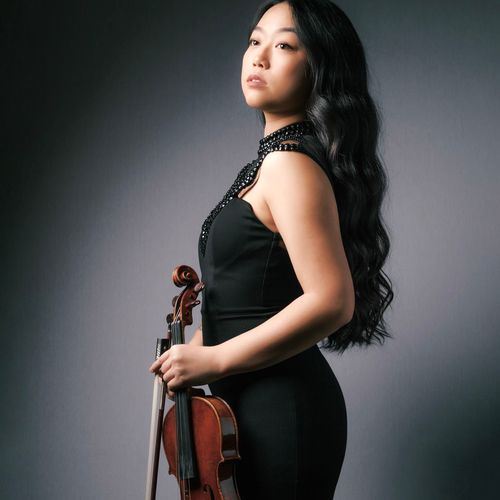 Yiyi Hsu
Violin, 2024 mentee
Yiyi Hsu is a young and emerging violinist. She holds a Bachelor's degree in Violin Performance from
the University of British Columbia - School of Music and will be completing the Artist Diploma. She was
a student of David Gillham for the past several years, studying both violin and chamber music.
Yiyi is an avid chamber and orchestral musician. She has served as concertmaster of the UBC Symphony
Orchestra on several occasions. Most notably, she was appointed as concertmaster for the 2023 UBC
Symphony Orchestra tour in Germany. She is a member of the Somerset Quartet, the quartet in residency
at the UBC School of Music. Yiyi was selected for the mentorship program at Vetta Chamber Music for
the 2022/23 concert season and is ecstatic to return. In addition, she has played with Inspired at the Chan,
Vancouver Westcoast Music Society and Music on Main. Yiyi was a participant at The Domaine Forget
Music Festival and Academy in Charlevoix, Quebec, the Hammelburg Violin Academy in Germany,
Vancouver Symphony Orchestra Institute and the UBC Orchestra Festival.